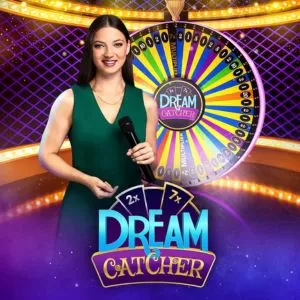 Introduction to Dream Catcher Live Casino Game
Dream Catcher Game Overview
The Wheel of Fortune
The centerpiece of Dream Catcher is a super-sized, vertically mounted wheel adorned with 54 vibrant segments. While 52 segments feature numbers ranging from 1 to 40, two special multiplier segments, x2 and x7, add an extra layer of thrill to the game.
Decoding Dream Catcher Rules
Simple Yet Engaging
Dream Catcher boasts one of the simplest rule sets among live casino games. Your mission? Guess the correct number where the wheel will come to rest. 
Before diving into the real-money action, acquaint yourself with our comprehensive guide to the game's rules. Learn the intricacies of play, discover winning strategies, and explore the game's payouts, odds, and RTP.
Features that Set Dream Catcher Apart
A Player's Paradise
Dream Catcher stands out as a game tailored for players. Unlike some live casino games, there are no losing fields on the wheel. No pockets translate to no automatic losses. Choose from numbers 1, 2, 5, 10, 20, and 40, and if the wheel aligns with your prediction, relish payouts that match your chosen number.
Multipliers for Mega Wins
The real ecstasy for players comes when the wheel halts on the 2x or 7x bonus spin multiplier segments. Brace yourself for the opportunity to rake in substantial payouts that defy the ordinary.
How to Play Dream Catcher
Simplicity in Action
Playing Dream Catcher is a breeze. Place your bet on the number you believe the wheel will stop at, and our dealer will set the wheel in motion. The winning segment is unveiled, and if your bet aligns, you're in for a payout based on the odds associated with your chosen number.
Betting Dynamics
Navigate through the betting process seamlessly by choosing your chip value and clicking on your desired number. Whether you opt for a single bet or cover all six betting spots, our user-friendly interface ensures a smooth betting experience.
Timing Matters
Stay in sync with the game's rhythm through our traffic light system. Green signals the time to place bets, amber warns of the closing betting window, and red indicates the end of bets for the current round.
Game Payouts, Odds, and RTP
Dream Catcher's payouts align with the winning segment's number, following a straightforward to-one basis. Delve into the details of each number's winning probability, the wheel's composition, and the game's RTP, ranging from 90.57% to an optimal 96.58%.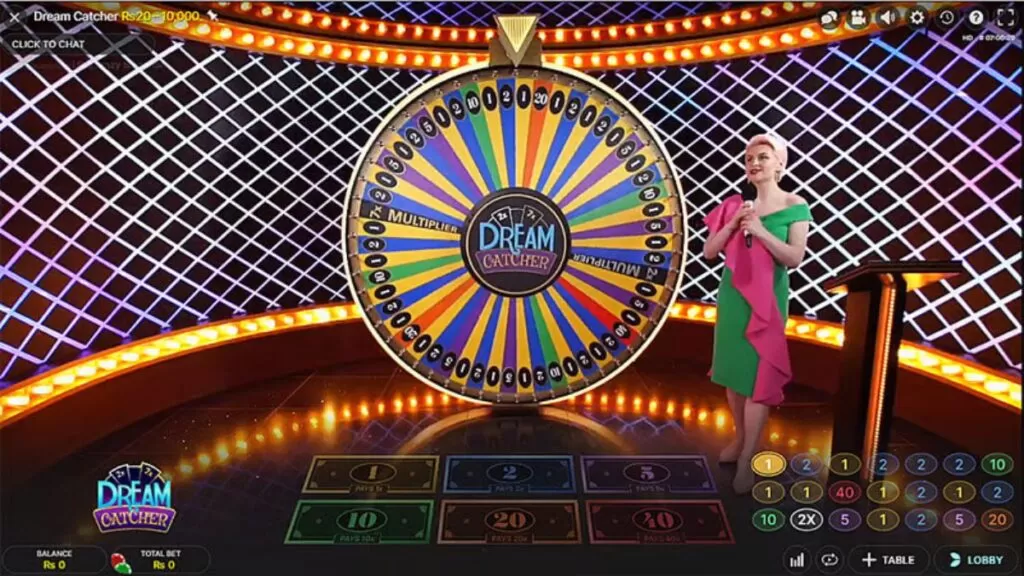 Crafting Your Dream Catcher Strategy
Strategies for Success
While Dream Catcher is a game of chance, seasoned players often share tips for maximizing enjoyment and potential returns. Explore strategies based on frequency, risk tolerance, and leveraging multipliers for an edge in the game.
Setting Limits for a Gratifying Experience
As you embark on your Dream Catcher journey, establish clear budgetary limits to ensure the game remains an enjoyable experience. With betting limits accommodating both cautious and bold players, find the right balance between budget and playtime.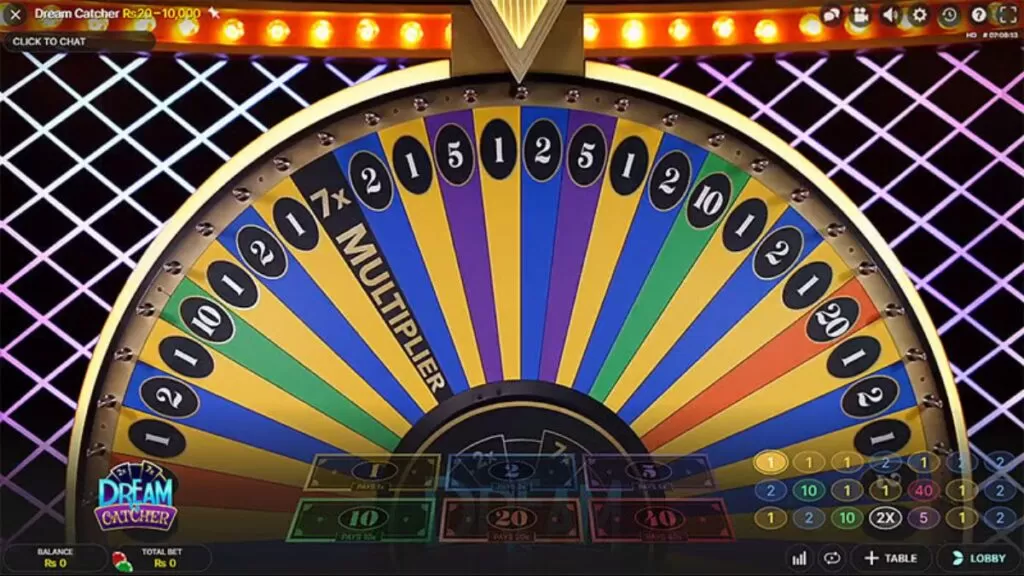 Best Online Casino for Dream Catcher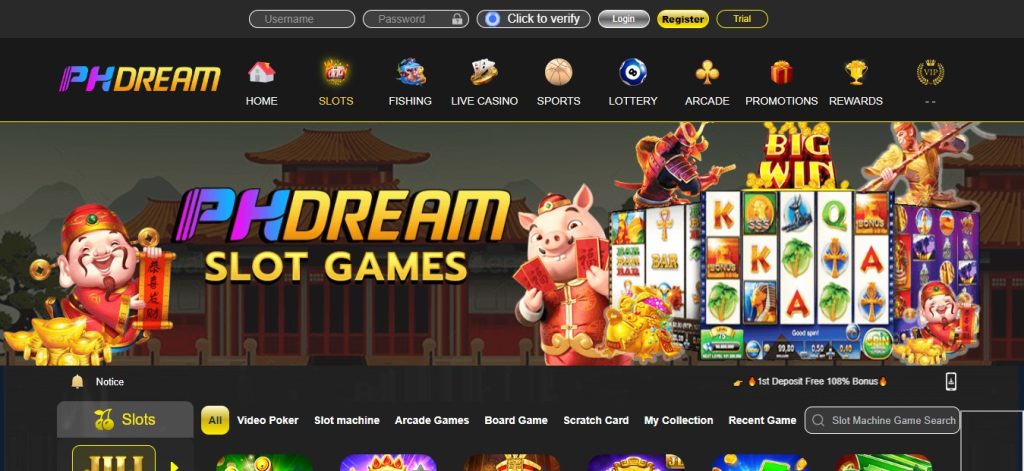 Best Casino to play Dream Catcher is Phdream Casino. Phdream Casino offers a user-friendly interface, making navigation a breeze. Whether you're a seasoned player or a newcomer exploring the world of live casino games, the platform caters to all levels of expertise. 
With a diverse array of betting options and table limits, Phdream Casino provides the flexibility to tailor your Dream Catcher experience to suit your preferences.
In summary, Phdream Casino emerges as a distinguished choice for those seeking not just a gaming platform but an immersive journey into the realm of Dream Catcher. 
In conclusion, Dream Catcher transcends traditional live casino games, offering a dynamic blend of simplicity and excitement. As you navigate the wheel of fortune, armed with knowledge and strategic insights, the dream of substantial wins becomes a tangible reality. Explore the thrills of Dream Catcher at Phdream Casino, where every spin is a step closer to fortune.
Manuel Rojas is an accomplished writer with a passion for exploring the intricate world of casinos and gambling. With a background in journalism and a deep fascination for the psychology behind gaming, Rojas has dedicated his career to unraveling the mysteries of the casino industry.
Rojas is known for his ability to bring complex casino concepts to life through his engaging and informative writing. His work delves into various aspects of the casino experience, from the history of iconic establishments to the strategies employed by seasoned gamblers. Whether you're a novice looking to learn the ropes or a seasoned player seeking to improve your skills, Rojas's articles offer valuable insights and expert guidance.
The content provided on the Phdream Casino website is for informational and entertainment purposes only. Our articles, guides, and reviews are meant to offer insights into the world of gambling and casinos, but they do not constitute legal, financial, or professional advice.
While we strive to ensure the accuracy and reliability of the information presented, the casino industry is subject to constant change, and we cannot guarantee the timeliness or completeness of the content. Visitors are encouraged to conduct their own research and seek professional advice when necessary.